You can withdraw from your account through the "Wallet" and then "Withdraw" option in your account.
You can access this option while logged In, by choosing it on your account menu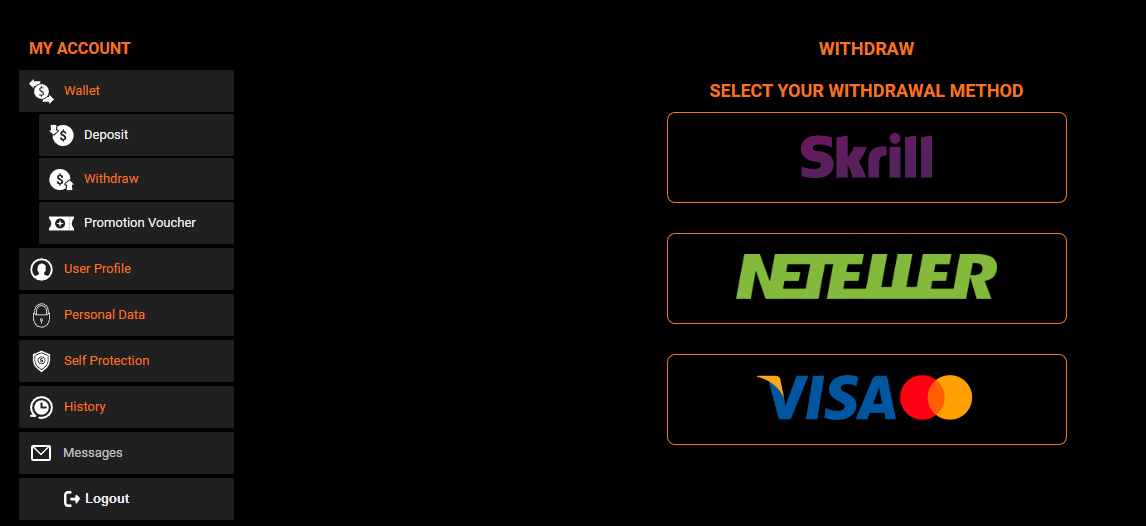 Once you choose the "withdraw" option you will be able to view the available payment methods.
You simply need to choose the method you wish to proceed with, and on the provided field, add the amount you wish to withdraw and click "Proceed"
Once your request has been submitted, it will be processed, and the amount will be transferred in your selected payment method within 5 working days. Some occasions might take even more time to be completed due to possible delays and procedures of Banking Institutions.
Withdrawals should be requested back to the payment method that was used to deposit the original funds.
For multiple payment methods, you might need to submit multiple withdrawal requests based on the amounts deposited with each method.
Please have in mind that your withdrawal might be declined if it does not comply with the legal/compliance framework of the gaming industry, or additional documentation might be requested.
In this scenario, we will contact you via email to inform you for all the steps that you might need to take to proceed with your withdrawal.